We've all had a tough run of it these past months. Businesses and individuals alike have been hit hard by the COVID-19 pandemic, particularly in the hospitality industry. Even as Washington state has reopened under Phase 2, revenues are down by up to 70 percent in the restaurant sector. This is a profound challenge for what are generally small, family-owned businesses — and it's a threat to the beautiful restaurant scene we have all watched build here over the past decade.
"It's been rough," says chef Chad White of Zona Blanca and High Tide Lobster Bar. "It's hard enough to operate even without a pandemic."
Meanwhile, local leaders have taken up the cause.
"We were asked to lead the business recovery conversation from the get-go," says Alisha Benson, CEO of Greater Spokane Incorporated. "One of the first things we did was call our peers at Visit Spokane and our other partners, the West Plains and Spokane Valley Chambers of Commerce, and then the Downtown Spokane Partnership, and said, 'We've got to get together. Our business community is going to need us.'"
The Inlander is in a unique position to help, especially in the area of restaurants, having worked closely with many of them via Inlander Restaurant Week. So the Inlander's team along with STCU and Washington Trust Bank, joined up to pitch in. This Back To Business Guide, the first in a series, is part of that team effort.
The only way restaurants are managing through this unprecedented time, White points out, "is because our community is supporting us." And that's the core of this campaign's mission — to show that by blending safety and commerce, every single one of us can be part of the solution.
We know everybody wants to help, but there is one other requirement: You must be OK with eating lots of delicious food. Read the Back to Business Restaurant Guide, Volume 1, and we'll show you where.
Order Up!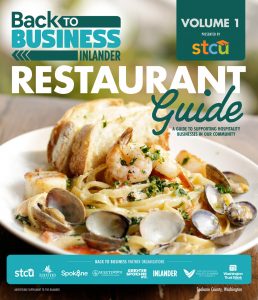 Grab the next Back to Business Guide on Oct. 1 when Volume 2 will be inserted in the Inlander.
Find resources and details about this ongoing project at btb.inlander.com.