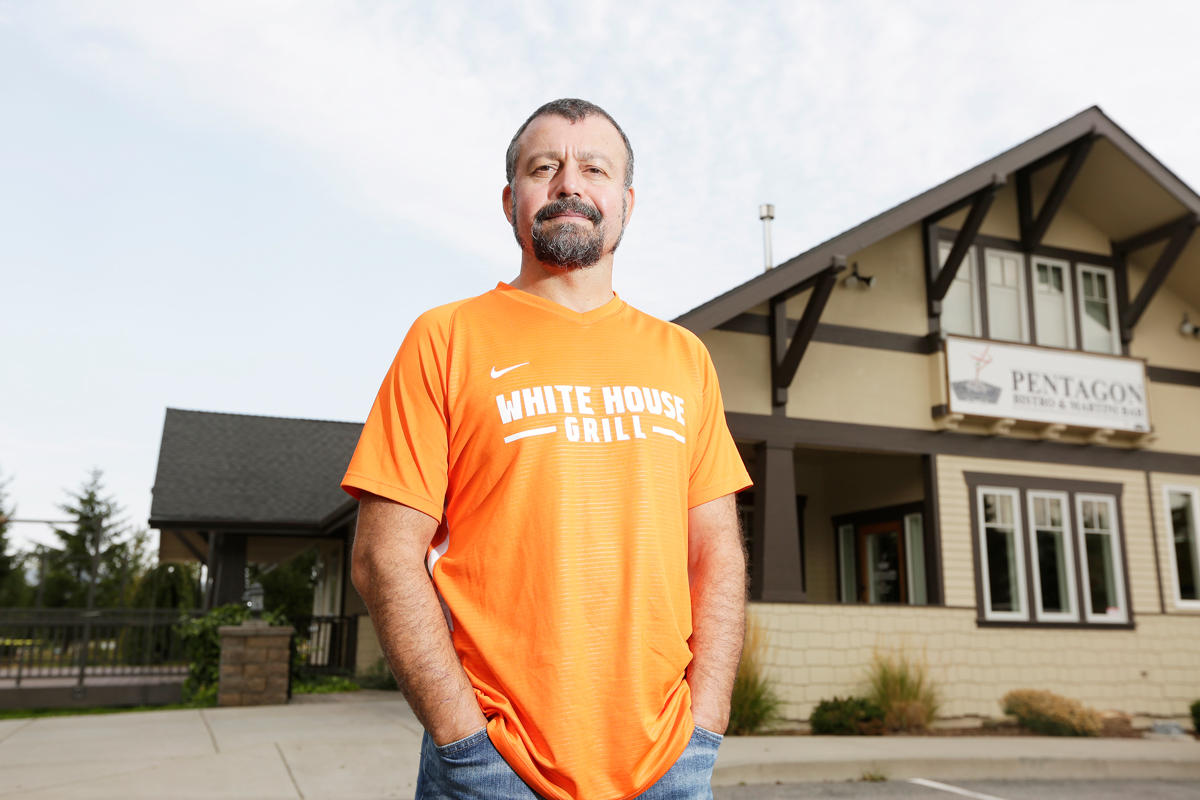 It was April 27, the day before his son's birthday, that Raci Erdem learned the Pentagon was on fire. The popular bistro and martini bar was the newest of the three Washington, D.C.-themed restaurants that Erdem operates along the Washington-Idaho border. Its grand opening had taken place just six months prior, in October 2019, and it had only recently reopened for takeout following the initial round of COVID-19 business closures.
The cause of the fire, he says, was spontaneous combustion, which he jokingly calls the "2020 Disease." Like many restaurateurs, Erdem has had to contend with not only the pandemic, but the usual curveballs small, local businesses face even in normal times.
Although Liberty Lake firefighters were able to contain and extinguish the fire in a matter of minutes, there was enough exterior damage to warrant repairs. The Pentagon would be forced to close for renovations until later this month, when it's planned to resume business as usual once again.
"We've been out of commission for almost four months," says Erdem. "We feel like boxers, just getting knocked down and then hopefully getting stronger, then getting up and winning finally. But we never thought about closing. We are actually very excited to open back up."
He has long had a special fondness for the building itself, even when it was still the site of the CorkHouse Kitchen and Bar.
"For years, the Pentagon building was one of my favorite locations for a restaurant and business. I always thought it was beautiful. We were so happy with everything about the Pentagon. Our main goal is to build it back the way it was. We won't change the food, nothing."
Erdem, who originally hails from Turkey, made a name for himself almost as soon as he launched the White House Grill in Post Falls in 1996. He proudly and enthusiastically celebrated the "crazy amount" of garlic that went into some of its Mediterranean recipes.
About 10 years later, he opened a bistro and martini bar called the Oval Office just a few doors down. You might think of that as the Idaho-based counterpart to what would eventually become the Pentagon.
"Liberty Lake has lots of good restaurants, but we thought there was still room for another one," he says. Both the Oval Office and the White House Grill had large customer draws from Liberty Lake, which Erdem took as an auspicious sign.
Since the day it first opened, the Pentagon's menu has featured dishes like Chilean sea bass, a White House Grill signature, as well as an extensive list of shareables such as lamb gorgonzola burgers and spicy-sweet Indian pizza. Not to mention a lineup of more than two dozen martinis. Those are all slated to return when the restaurant reopens.
Amid so many setbacks, Erdem has had at least one small stroke of luck. During the initial COVID-19 shutdown, his Idaho restaurants were already in the middle of large-scale remodels. The White House was given a top-to-bottom interior facelift, and the patio at the Oval Office was covered for more comfortable, all-weather dining.
"We know that this pandemic and all these hard times are not going to last forever," he says. "We have really loved the community outpouring toward the restaurant. When all this craziness goes away, we'll get back to where we were. I have no worries about that."
The Pentagon Bistro and Martini Bar is located at 1400 N. Meadowwood Ln. in Liberty Lake. It is scheduled to reopen in mid-October. Visit whitehousegrill.com or call 891-7790 for more info.