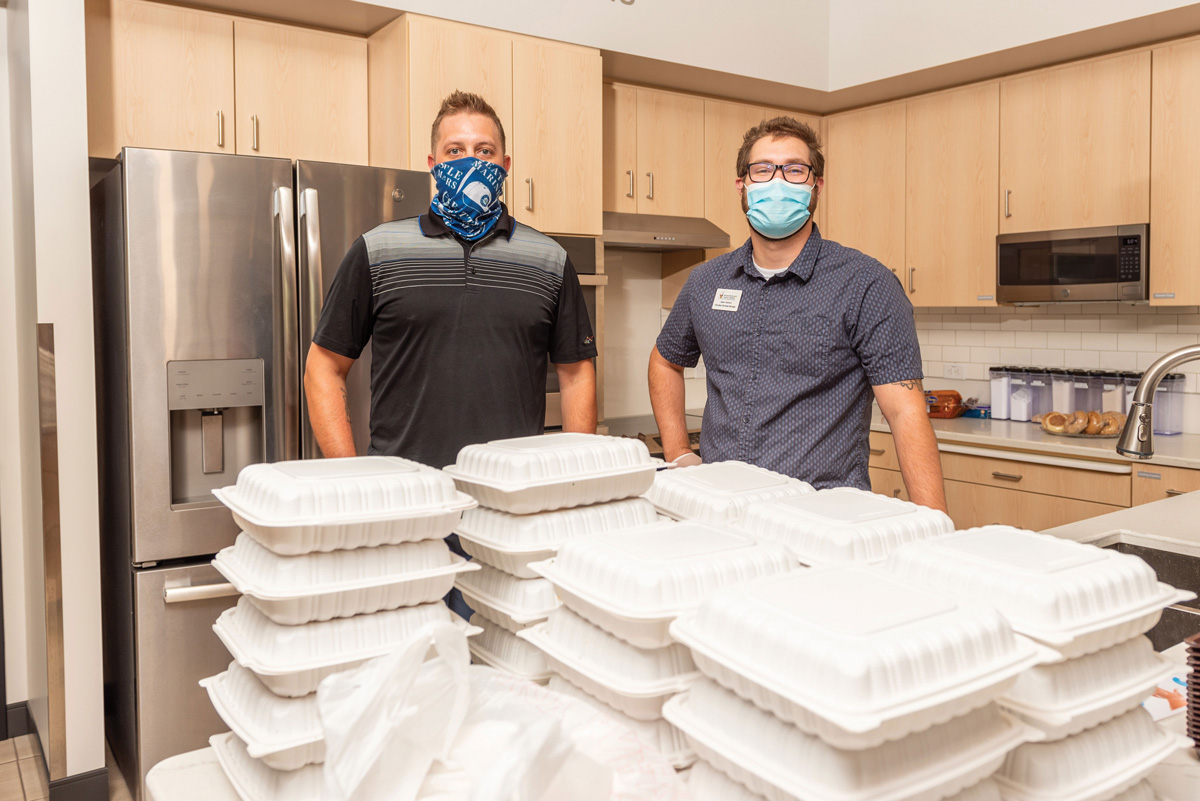 The important steps that were taken to mitigate the spread of COVID-19 had consequences that weren't always immediately visible. As the public watched restaurants shift to takeout-only service or temporarily close their doors during the early stages of the pandemic, there were other kitchens that fell silent, too.
At the Ronald McDonald House, which provides short-term accommodation to families with sick children, the volunteer-driven Make-a-Meal program was suspended.
"When your child is sick in the hospital, and you're spending the majority of your days with them, the Ronald McDonald House tries to provide for some of your ancillary needs," says Jerid Keefer, co-founder and executive director of the Community Cancer Fund. "One less thing that you have to worry about is what you're going to have for dinner."
But without outside community groups like the Boy Scouts donating their time to help to cook meals each evening, it was much harder for the Ronald McDonald House to meet those needs and make life a little more comfortable for the patients and their families. As Keefer points out, "COVID may have shut everything down, but cancer is still going on."
Keefer and others at the Community Cancer Fund saw a chance to support the Ronald McDonald House families as well as Spokane's local restaurants at a time when they both could use some help. Keefer initially reached out to Matt Goodwin's Goodwin Group (Barnwood Social, Backyard Public House, among others) and Adam Hegsted's Eat Good Group (Gilded Unicorn, Yards Bruncheon, to name just two) to see if they'd be game.
"In addition to operating restaurants, they're huge advocates for this community. We felt that working with them to facilitate this would be a win–win," Keefer says.
Jory Hustad, the food and beverage director at the Goodwin Group, certainly sees the resulting partnership that way.
"We are beyond grateful for the support and opportunity to give back. With Community Cancer Fund's support, we've been able to fulfill the needs of those families and support our staff all at the same time," says Hustad. "Hopefully that has brought a glimmer of light and eased the burden a little for everyone."
By further partnering with musician Kelley James and his ambitious Million Meals Tour to feed hungry families across America, the Community Cancer Fund was later able to commit to providing a total of 4,000 meals for the families staying at the Ronald McDonald House through the end of the year. Since then, they've expanded their restaurant collaboration to include Longhorn Barbecue and Black Tie Catering.
"Today, with the meal program continuing, it's a necessary comfort for these families as they focus on their ill children and don't have to worry about what they are having for dinner," says Mike Forness, the executive director of Ronald McDonald House Charities of the Inland Northwest.
"To me, this is a shining example of the great things our community does when we work together," he adds. "It's been crucial for our families and hopefully the local restaurants have benefitted a little from the program as well."
For Keefer, it's easy to measure success in terms of the number of meals provided or the number of restaurants that have been supported so far. But he says the bigger reward for everyone involved has been "sticking to their strengths" and doing whatever they can to make the indirect impact of the pandemic less severe.
"I don't know how you'd quantify peace of mind, but it's been really cool to see," Keefer says. "It checks a lot of boxes."
To find out more about the Community Cancer Fund and how it's supporting Inland Northwest restaurants alongside the families at the Ronald McDonald House, visit communitycancerfund.org/MillionMeals.
The Human Element
In rural communities, many restaurants often double as gathering places. They're the cornerstone venues where extended families come together for a celebratory meal, or where large groups of friends meet after a football game.
The arrival of COVID-19 changed that.
"People come from Spokane, Pullman, Colfax and Rosalia, and they meet here in the middle," says Melissa Bozarth, who owns the Harvester in Spangle. "Normally, we would be able to have larger parties of 15, 20 or even 50 people."
Her restaurant sits on the western tip of the town, one-quarter of a mile from U.S. Route 195, bordered on three sides by vast stretches of Palouse farmland. Without those large parties and other travelers making the intentional trip, much of their customer base vanished.
"We didn't have enough to-go orders to even keep the doors open, so we just closed," she says, "and during that time period, we chose to do some remodeling and pray a lot that everything was going to be OK."
They decided to make the most of what would become a 10-week hiatus. Bozarth's family and the Harvester staff repainted the building's exterior and renovated the men's room.
Since the restaurant reopened at the end of May, she says that there has been an outpouring of gratitude from the community — not just for the improvements, but simply because the Harvester is there for them once again.
"You appreciate things more when you don't have it. We've been very blessed that customers are happy we're back open again and have been hugely supportive of us," she says. That support has also been a real source of positivity for Bozarth and her family.
"Yes, it's about the food, but it's also about the human contact. One of the reasons we do this is for the community and for the human connection that we get from our staff and the people coming in the door. For us, the human element is a big deal."
The Harvester Family Restaurant is located at 410 W 1st Street in Spangle. Visit harvesterrestaurant.com online or call 245-3552 for hours and menus.