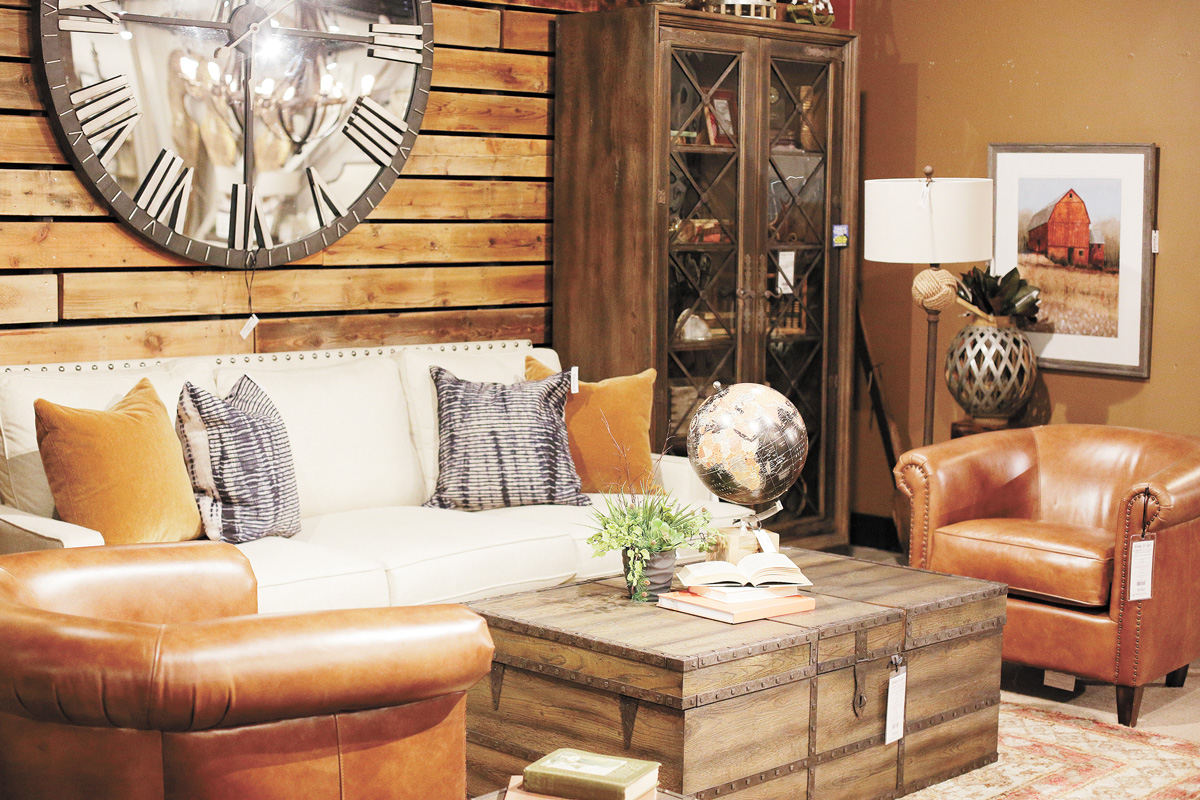 Shops to help you take your home decor to the next level
Many of us are reacquainting ourselves with our homes as we navigate the new normal of spending considerably more time there. And if shopping reports are any indication, we're investing in the kinds of things that help us feel our experience is less about being housebound and more about being happy to have a home base.
Pillows and blankets, for example, are very popular lately. Since reopening this summer, SAVVY HOME could barely stock enough of them, says Jacki Reed, who started the year-old business with close friend Kim Mehaffey.
Like many retail business owners, the duo found themselves initially flummoxed by the statewide shutdown, yet quickly pivoted. They developed Facetime shopping options and upped the timeline for their online store, where customers can peruse such items as sassy barware, classy serving dishes and handsome furnishings.
They've recently added small, private events to "continue that conversation with new and existing customers," says Reed. "We're all about welcoming people to come in and … try it all out."
Are you missing your usual First Friday jaunts? Get your art fix with home décor of a different sort like art glass or elegant textiles at the NORTHWEST MUSEUM OF ARTS & CULTURE's museum store. POTTERY PLACE PLUS is just such a place, too, with an ever-changing selection of artwork, of course, but also locally made pottery and handcrafted wood items.
Have some fun decorating for the holidays this year at UNIQUELY CHIC BOUTIQUE, which is packed with gifts, household décor and fun items that will make you smile.
Spokane has numerous home décor outlets, many of which have grown up in clusters of creativity. Downtown, look for FIG TREE HOME, KIRISHIAN RUGS, 1900 HOUSE AND HOME, POTTERY BARN in River Park Square, and Spokane's very own outlet for midcentury modern, DANIA FURNISHINGS.
Drive up Division for many of Spokane's longstanding furnishing outlets, including MOR FURNITURE FOR LESS and SPOKANE FURNITURE, which has a Spokane Valley location, too. Nearby is locally owned MADISON HOME, known for its exceptional design services and custom furnishing options, as well as for its sister company, MADISON COUNTRY.
Heading north towards the Y, discover ENNIS FINE FURNITURE and CASUAL SPACES FURNITURE, which specializes in living rooms and can help you turn that spare room into a rec room the whole family will enjoy.
Don't forget about Spokane's rich vintage market, like TOSSED AND FOUND, BOULEVARD MERCANTILE and METRO ECLECTIC, all of which can help you curate your own unique home décor vibe.
Heading east from Spokane, Sprague Union District continues to evolve as a district for fun and interesting shops like RAIL CREEK FURNITURE. TIN ROOF FURNITURE has been a mainstay on Sprague in one form or another since 1945 and is now run by third-generation owner Heather Hanley. In addition to Tin Roof and its furniture outlet, RESKUED, Hanley recently launched BIDE AND BURGEON in the original building owned by her grandfather so many years ago.
The focus of Bide and Burgeon is "accessibly priced" items so no special order pieces, says Hanley, who is stocking the 4,000-square-foot showroom to the hilt and keeping a large inventory of quick-ship items.
"You can spend a whole afternoon there," Hanley says of the new space.
For those missing international travel, a trip to TROVATO INTERIORS is just the ticket. Let co-owner Susan Usai be your guide at Trovato, which means "found" in Italian. A blue-and-white overstuffed vase feels like England or France, while new pillows from carpet remnants suggest eastern realms. See them all in one place at Trovato.
If some of the joy of shopping is in leisurely exploring, consider making a day of it with a road trip. Head to Vinegar Flats for LUCKY VINTAGE AND PRETTY THINGS or out to Rockford where you'll find a huge assortment of décor from country to rustic at HURD MERCANTILE AND COMPANY. And in Liberty Lake, CONSIGN FURNITURE promises to amaze visitors with nearly 60,000 square feet of furnishings and décor, including antiques and one-of-a-kind items.