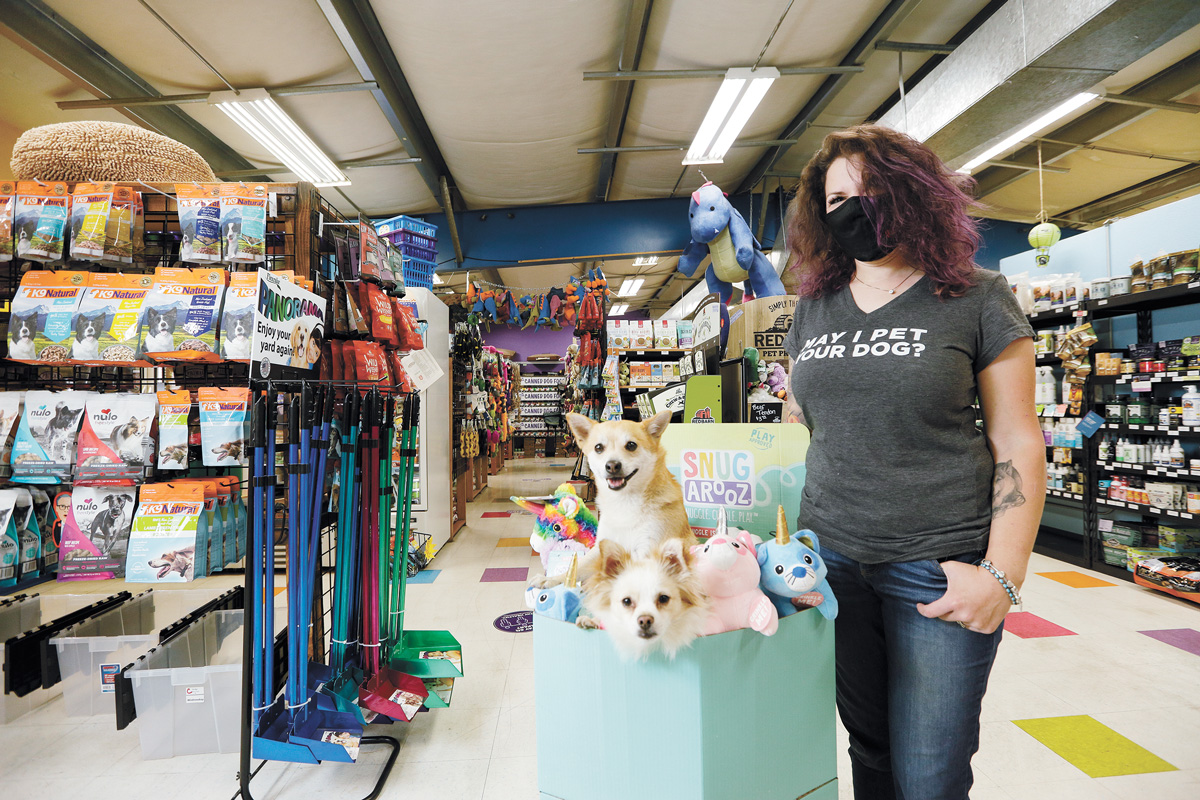 With pet adoptions setting records, here's where to treat your new fur baby right
Perhaps when coronavirus hit you found yourself working from home, juggling countless Zoom calls while entertaining your suddenly home-schooling kids and converting your wardrobe into a lovely array of sweatpants. And perhaps you also thought, "You know, now is the perfect time to get a puppy."
You're not alone. Reports from across the country and from Spokane County's own adoption centers like the SPOKANE HUMANE SOCIETY and SCRAPS indicated throughout the pandemic thus far that pet adoptions are on a record pace. That was true when prospective adopters had to schedule visits by appointment, and remains so now that those adoption centers are back to (a socially distanced, masked) semi-normal.
Considering the pandemic shows little sign of slowing down heading toward winter, it's safe to say 2020 will be memorable for countless families celebrating adoptions of dogs, cats and all manner of critters. And if you haven't adopted a new pet yet, well, Christmas is right around the corner.
Thankfully, the area has a wide array of shops, trainers and groomers to help you pamper your new family member.
You can find outlets of major pet stores like PETCO and PETSMART in Spokane County, but you can also find everything those places have to offer, and then some, in locally owned businesses like PRAIRIE DOG PET MERCANTILE, which offers everything from food to toys and treats at locations on Spokane's South Hill and Kendall Yards. Likewise, URBAN CANINE has two outlets to serve pet owners, on the South Hill and in North Spokane, and they carry an impressive array of food, treats, toys and clothes for your dogs and cats.
YUPPY PUPPY has plenty of supplies, too, at its downtown Spokane and North Spokane locations, and also offers professional grooming, do-it-yourself washing stations at both spots where you can clean your dog with their supplies (and keep your own house dry!), and doggie day care at its northside outlet. Owner Aquila Brown said her downtown outlet took a pandemic hit due to the lack of tourists and downtown workers, and once Washington Gov. Jay Inslee lifted restrictions on grooming in May, it was hard for her staff to catch up with all the shaggy pups needing a haircut. Brown was frustrated that her small business wasn't allowed to do grooming while big-box pet stores were early on in the pandemic.
"It was extra frustrating. It really felt like they were targeting the little guys specifically," Brown says.
NORTHWEST SEED & PET has been helping owners of animals large and small in Spokane County for 76 years. Whether you have a dog or cat, or something a little more specialized like a bird, fish, rabbit or reptile, their locations on North Division and East Sprague have everything you need to keep your pets healthy and happy.
BARK, A RESCUE PUB has been a pandemic business success story so far. The pub on the north side of downtown Spokane partnered with the Spokane Humane Society to showcase animals in need of adoption at a space adjacent to its tasteful dining room and bar spaces. The spot in the former Broadview Dairy building opened in early August and successfully found homes for dozens of animals in its first months open. In North Spokane, the area's first cat cafe opened this spring. KITTY CANTINA teamed with SPOKANIMAL to keep kitties stocked for visitors and potential adopters during the pandemic, important since SpokAnimal's own shelter has been closed due to COVID.
All of the pandemic adoptions have made life busy for trainers, too. DIAMONDS IN THE RUFF is used to having classes full of yapping pups and their families, but the arrival of the coronavirus forced them to postpone some classes, then dramatically limit their sizes once they were allowed to reopen. The warm months allowed for a large slate of classes at the school's outdoor training field, but expect classes inside during the coming cold months to fill up fast. You'll want to get your family's new furry face signed up there or with another trainer as early as you can.