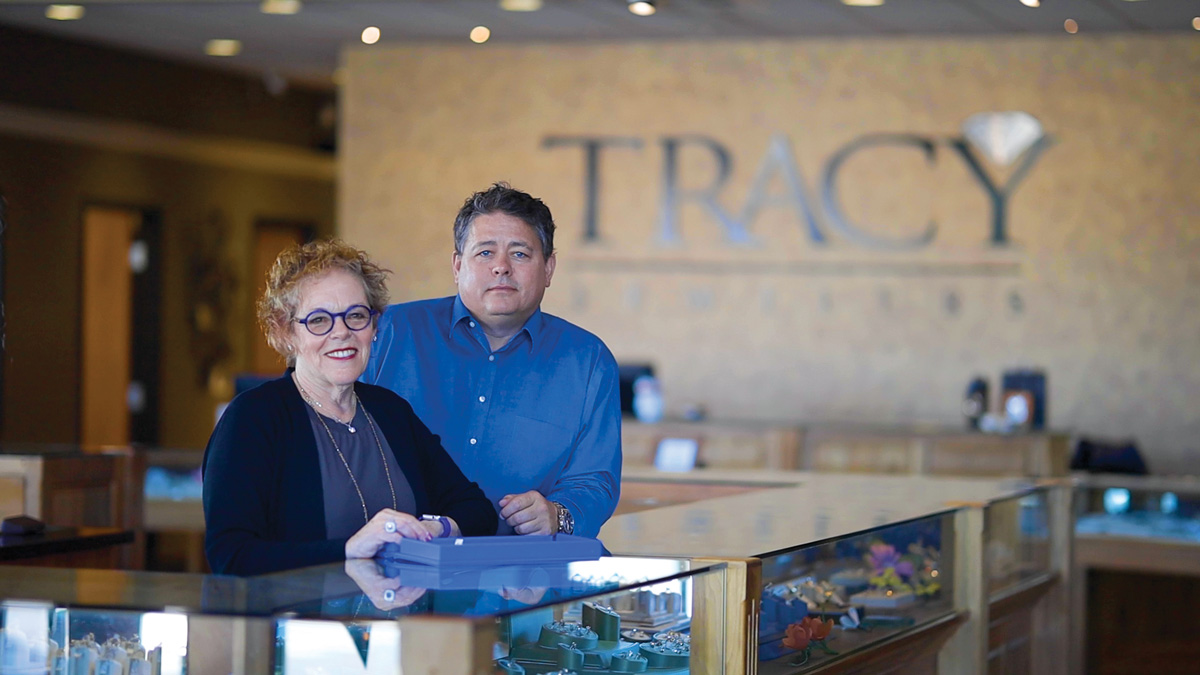 When Sean Tracy first got involved in the family business several decades ago, he probably didn't foresee a year like 2020. Luxury retailers like Spokane's Tracy Jewelers typically pride themselves on an unhurried, highly personalized experience. But providing that level of service hasn't always been easy during the COVID-19 pandemic, especially when curbside pickup was the only option.
"That was tough," he laughs. "People would pull up and say, 'I'd like to have a pendant for my wife for our anniversary,' and so you're taking diamond pendants back and forth out to the parking lot one at a time. It's a little dangerous and a little time consuming, but every little bit helps."
One incidental lesson of COVID-19, then, is that the drive-through model that works so well for burgers isn't ideally suited to precious metals and rare gems.
Tracy's business has since moved back indoors, where he and his staff are adapting to modified cleaning routines and social distancing guidelines. Jewelry is sanitized for about 48 hours after being tried on. Complimentary masks are offered to customers when they enter the store. By now, the extra steps have almost become second nature.
"It's not that big of a challenge, really. In our business, we don't have 40 people in here at once. Generally speaking, we normally have a maximum of six people. It's not that big of a deal. Everybody's like, 'This is what we have to do, so let's just get it done.'"
That matter-of-fact attitude might also explain why Tracy hasn't seen a decline in demand for commemorative jewelry like engagement rings. Despite the fact that large-scale gatherings are still on hold, he's found that wedding-related business has remained more or less unchanged so far.
"I don't know what to attribute that to," he says. "I think it shows that people want to express their feelings for one another. Even though they're postponing weddings, they want to do the small things now and do something bigger later when they can."
Lorraine Tunca has seen very similar trends among her clientele. Along with her husband Naim, she owns and operates Lorraine Fine Jewelry in Liberty Lake.
"Jewelry is still one of the most sentimental and emotional purchases. It's always attached to something — a birthday, an anniversary, the birth of a child," she says, and those personal, intimate milestones keep happening regardless of global events.
"The holiday time is always a time that people like to be engaged. So, even though this year is looking very different for some of our clients and they are not going to be having these large gatherings that they usually have for Thanksgiving and Christmas, they are still choosing to get engaged in a more intimate scenario."
Like Tracy, Tunca has also seen an uptick in jewelry repair or gem resetting since her business reopened in Phase 2. That might come down to folks having more time at home to sort through family heirlooms. It could also be a desire to continue supporting the small, locally owned businesses that they value.
"Our community in Liberty Lake has been amazing," she says. "People are realizing that we're around and they're bringing their jewelry in to be inspected or to be cleaned. I just feel really supported by the community."
And given that jewelry serves as an "instant pick-me-up," Tunca is busy creating a custom line of "everyday friendly" jewelry that lends itself to more casual scenarios like working from home. Her plan is to make better use of their website to showcase and sell her new designs.
"We reinvent ourselves constantly. We're always working and creating new things. The silver lining for us is to get inspired, so we're always in search of improving and making sure we are ready for the next challenge."
Tracy Jewelers is located at 106 N. Evergreen Rd. For more information on their services and opening hours, visit tracyjewelers.com or call 893-2929. Lorraine Fine Jewelry is at 21950 E. Country Vista Dr. in Liberty Lake. Reach them by visiting their website at lorrainefinejewelry.com or by calling 701-2711.