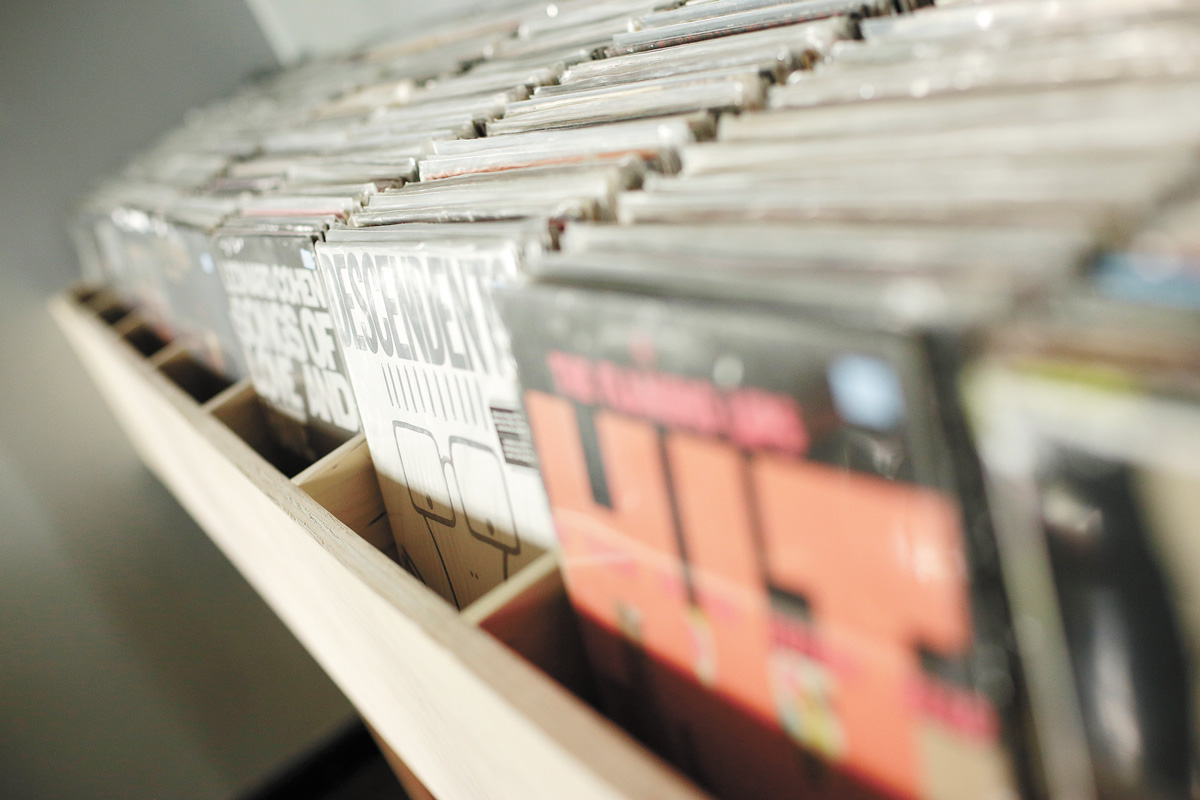 Spokane's record stores crank up the sounds that make the city a little more vibrant
It was only about a decade ago that vinyl records seemed destined for obsolescence, an antiquated medium that was bound to be eclipsed by CDs and MP3s. But now the sonic shoe is on the other foot: Sales of vinyl records not only turned around but continue to rise each year.
They're mostly selling vinyl these days — both used and newly pressed wax — but you can also find your fair share of CDs, tapes and listening equipment, from turntables and receivers to cassette players and reel-to-reel machines. Here are the record sellers that give Spokane County its beat.
4,000 Holes
For more than 30 years, Bob Gallagher has been selling records from behind the counter at 4,000 Holes, a Monroe Street mainstay that's jam packed with music. The store has experienced everything from the '90s grunge explosion to the rebirth of vinyl, and Gallagher's encyclopedic knowledge means he knows exactly which bin contains the record you're looking for. And true to the store's name, a reference to the Beatles song "A Day in the Life," has more Fab Four paraphernalia than anywhere else in town. 1610 N. Monroe, facebook.com/Bob4000Angel, 325-1914
Groove Merchants
Over in the Garland District, Groove Merchants is one of those stores that you'll feel compelled to check out if you just happen to walk by. It's a tiny shop, but it makes up for its minimal space with a killer selection, and owner David Thoren is usually on hand to point you in the right direction. It's a haven for vinyl aficionados, but it's just as welcoming to neophytes: If you're thinking about finally starting your record collection, you can find not only the listening equipment you'll need but some vinyl staples to get going. 905 W. Garland, groovemerchantsspokane.com, 328-2327
Recorded Memories
Another spot that's seemingly been around forever, Recorded Memories is a go-to spot for anyone who loves the physical act of browsing, thumbing through a stockpile of records and stumbling upon a hidden treasure you weren't expecting to see. The store is stocked practically floor-to-ceiling with used and new vinyl, cassettes and CDs, and owner Richard Terzieff is a massive music fan: He's got pictures of himself with countless rock luminaries everywhere you turn. 1902 N. Hamilton, richardsrecordedmemories.com, 483-4753
Resurrection Records
Resurrection Records isn't just a music shop; it's a label in its own right, having released dozens of garage rock, punk and psychedelic artists (mostly on cassette and limited-run vinyl) since it was founded in 2009. Owner Mike House is Resurrection's sole employee, and he'll be happy to either point you in the direction of your latest find or special order what you're looking for. It's one of those places that seems to attract music fans like moths to a flame: Stop by and you'll no doubt leave with an armful of records and good conversation. 1927 W. Northwest, getresurrected.com, 414-1429
Total Trash Records
Sitting right on the edge of the Browne's Addition neighborhood is this decidedly quirky shop, which took over the space formerly housed by a hair salon and named itself after a feedback-drenched Sonic Youth anthem. Owner Scott Kellogg took the remnants of the collection from the former Garageland (back when it was merely a bar/record store) and made something new out of it, and Total Trash prides itself not only on personality but on its stacked, diverse inventory. 1601 W. Pacific, totaltrashrecords.com, 995-5977