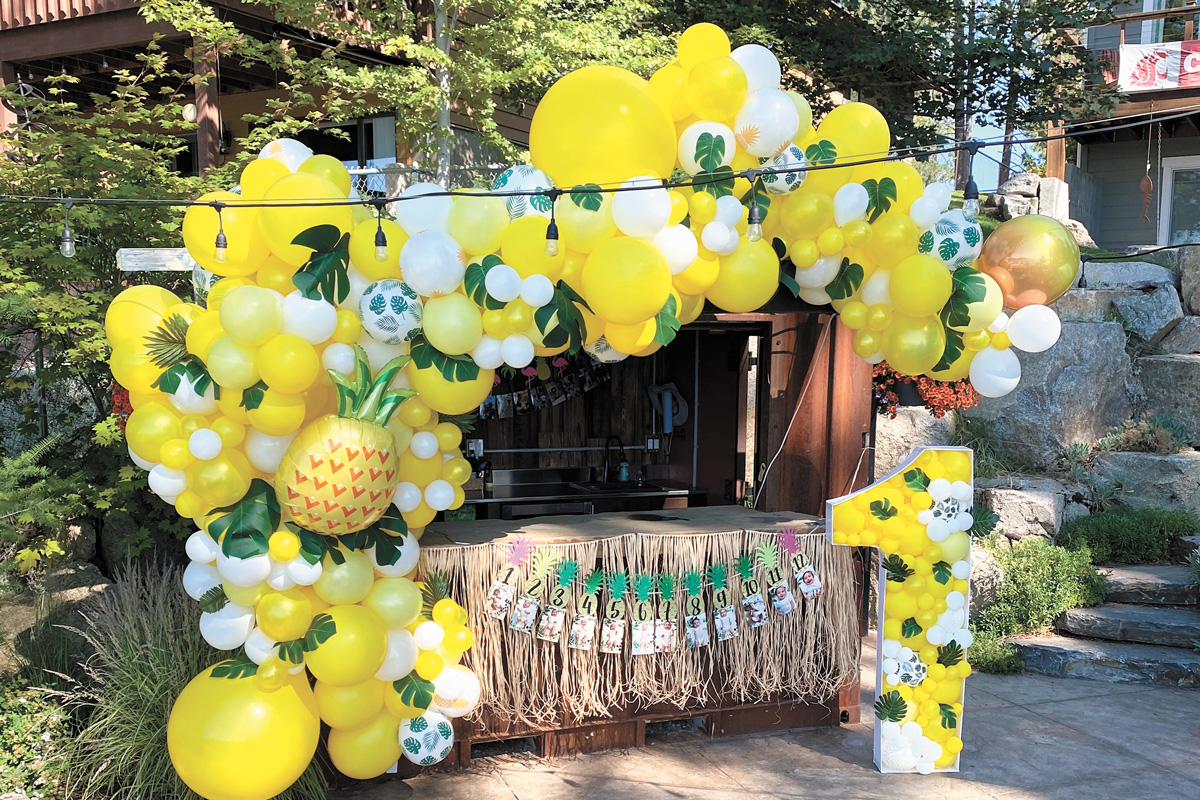 Local event planner launches a custom balloon business to make celebrations happen during the pandemic
When it became clear early this year that large-scale events, from fundraisers to weddings, were going on a months-long hiatus as the coronavirus's threat remains high, local event planner Hayley Lydig needed to be even more creative than usual.
"It became very apparent very quickly that those [events] wouldn't be an option for a while, and now we're nine months in and it's still not on the table," Lydig says. "So I pivoted to what was bringing me joy."
Her solution? Balloons.
"I've been building balloon structures for clients for a few years now," she says. "As COVID morphed into summer and people ventured outside, they asked if I could do a balloon structure for them for drive-by or outside events."
POP! BALLOON BAR launched in May, and business has been picking up steadily since. Lydig estimates she's already undertaken more than 80 large-scale, balloon-based installations.
Balloon installations, as Lydig calls them, are large arrangements of air-filled (as opposed to helium) balloons into archways, photo backdrops, garlands and other formations that feature dozens of connected balloons of various sizes and colors. Pop! offers its arrangements ($15 per linear foot) for commercial clients, like grocery stores or car lots, as well as private individuals for birthdays, weddings, anniversaries, bridal and baby showers, and more.
"They are completely flexible for whatever you envision them for," Lydig says. "The great thing about balloons is they're so eye-catching. They are a real bang for your buck in terms of making a statement."
The balloon boutique, which operates a storefront in east Spokane at 1003 E. Trent Ave., also offers traditional helium balloon bundles ($20+) and confetti-filled gender reveal kits ($60). Custom orders are gladly welcomed for any type of balloon arrangement or installation a client envisions. Local delivery is also offered.
Pop! stocks more than 100 different shapes, sizes and colors of high-quality and biodegradable latex balloons, along with shiny mylar shapes and letters. If a client requests something not currently stocked, Lydig and her team will seek it out.
"We're not your standard balloon shop, where you look at a wall and pick out what you want," she says. "We strive to make sure your look is unique and no one else will have the same look as you."
Besides being bright and eye-catching, Pop!'s air-filled balloon structures also have staying power, lasting for up to eight weeks, Lydig says.
"We're seeing people think of balloons more as decor instead of for a singular event, and that comes back to getting a lot of bang for your buck," she says.
Pop!'s focus on balloons — a traditionally cheerful and celebratory object — and helping locals celebrate while group gatherings aren't a safe option are key elements of its success as a business established during what's been an incredibly challenging year.
"Pop! has helped me stay motivated and positive through all of this, and I'm a people pleaser so I love being able to help and create these events and make those special for people," Lydig says. "I feel very lucky that people in Spokane have welcomed us."
More at popballoonbar.com and instagram.com/pop.balloonbar.