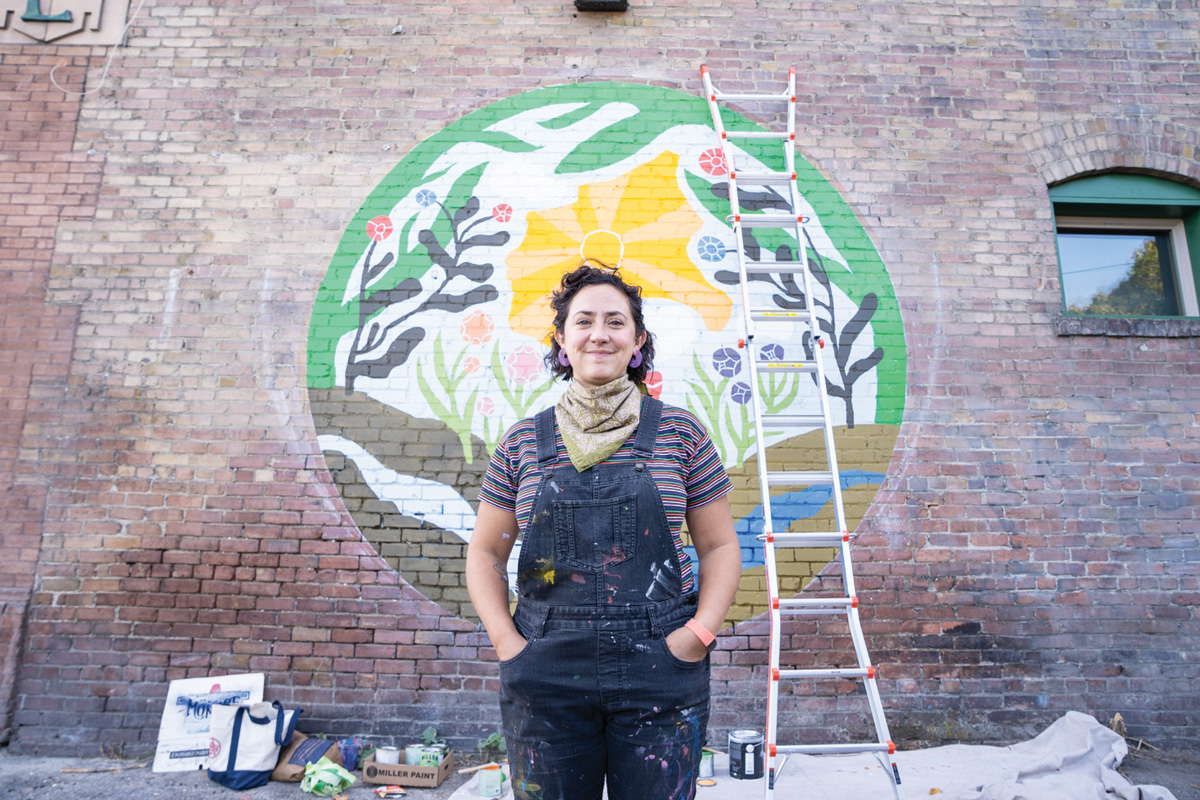 When BRICKYARD BARBERSHOP reopened in the wake of the first statewide pandemic lockdown, the popular men's grooming salon was greeted with a flood of appointments.
"It was really crazy," says owner Chris Banka. "Everybody was wanting to get a haircut. They've never been more in demand in the history of barbering, I'm sure."
The chance to get a professional haircut came as a relief to Brickyard's loyal customers, whose hair and beards had grown out for 11 unruly weeks during that initial closure. Their support was also a relief to Banka and his team, who soon learned of other local barbershops that hadn't been as fortunate.
"We're getting new people saying that their usual barbershop had shut down. It's sad to see anything close. I don't wish that on anybody," he says.
Out of concern over the impact of another closure on his own shop, Banka has been strict about enforcing face coverings. He and his staff have been diligently sanitizing all high-traffic surfaces, too, and limiting customers to appointments only.
And as Brickyard prepares to enter this unusual holiday period, and tighter restrictions again, they're grateful to be seeing another rise in bookings. Social gatherings might be on hold, but their patrons still want to celebrate the season with a fresh shave and a haircut. Afterwards they can score some giftable vintage finds at nearby 1889 SALVAGE CO. or get a locally roasted latte at the new LADDER COFFEE location across the street.
On Brickyard's south-facing exterior wall, a large mural welcomes shoppers and visitors to the North Monroe corridor. As of mid-November, that mural has been officially joined by at least five more within this revitalized business district. That effort was part of a recent arts-oriented push by the district's advocacy group.
"Adapting to COVID, this is a pivot away from our annual Cruise on Monroe car show. So it's less about a big gathering and more about creating this lasting beautification and positivity, supporting local artists and enlivening local interest in some older buildings," says Megan Kennedy, owner of ROGUE HEART MEDIA and current chair of the North Monroe Business District (NMBD).
Even under the reintroduction of stricter statewide mandates, the NMBD — better known by its #meetonmonroe social media hashtag (also at meetonmonroe.com) — is looking to sustain the momentum that's brought new shops and energy to the area over the past few years.
As a perk for Small Business Saturday on Nov. 28, the organization is distributing over 500 free tote bags to shoppers. The bags feature a print of a mural painted by local artist Karli Ingersoll on the side of the Lloyd Building, home to ELLIOTTS – AN URBAN KITCHEN and the HI-NEIGHBOR TAVERN, and a short walk from home décor mecca CHIC & SHAB.
"We're very proud of the fact that we've had the totes made right here in the district. They were printed at ATOMIC THREADS, which is a totally new business line for them and a great story of adapting during COVID. They have these amazing new transfer printers where they can work with a variety of designs and materials," she says.
To make a walking tour of the other new murals (outdoor time!), be sure to visit BLOSSOM'S ANTIQUES (artist Mallory Battista), MARILYN'S ON MONROE (Desmond Boston), NAILS WITH PZAZZ AND PARAMOUNT SPA (Jiemei Lin) and TUNE TECH (Amber Hoit). And if you'd prefer a virtual shopping experience, Kennedy says that many North Monroe businesses are now vending on the Live Local INW marketplace at livelocalinw.com.
"We have a commitment to keeping our customers comfortable and safe, and we love getting people out to explore," Kennedy says. "But it's wonderful to know that there's a way to support our shops online as well. Whether customers want to show up on Small Business Saturday or they prefer to shop at home, there are many ways to keep the money flowing locally."
Brickyard Barbershop is at 2802 N. Monroe St. You can book appointments online at brickyardbarbershop.com or by calling 324-CUTS. More info about the North Monroe Business District itself is at meetonmonroe.com. For a virtual tour and video of the new North Monroe murals, head to https://vimeo.com/479130646/6032292990.