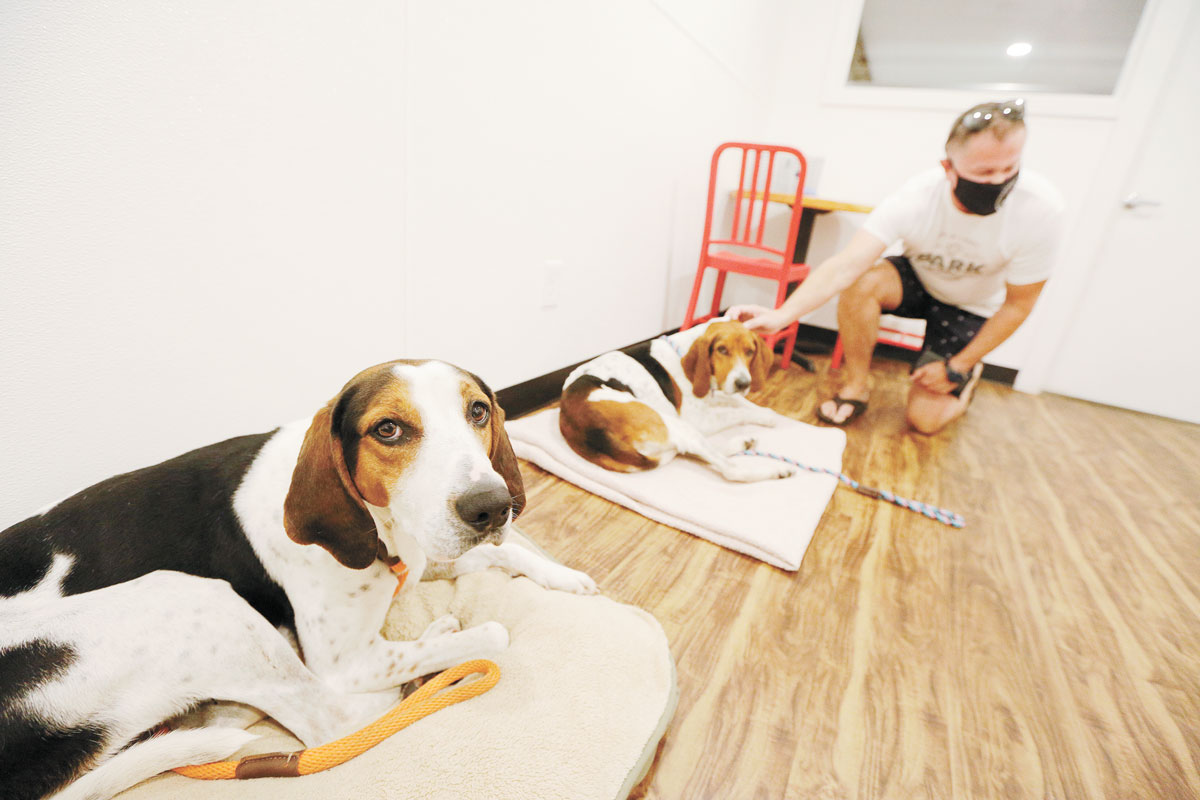 Channel your inner animal by visiting cuddly critters in the county
At a time when so many of us are feeling isolated and starved for company, it's not a bad idea to turn to our pals in the animal kingdom for a little companionship. Heck, they're probably more forgiving of our idiosyncrasies and personal foibles than some of our friends or family. And some of them could really do with a little kindness.
Fortunately, even under COVID-19 restrictions, there are plenty of spots around Spokane County where you can observe wild animals at one remove, hang out with potential pets in need of a forever home or even help care for critters who've had a rough life.
KITTY CANTINA
Billing itself as "half café, half cat sanctuary," the Kitty Cantina is out to pair homeless cats from SpokAnimal with loving owners. On account of COVID-19 precautions, appointments are by reservation only. The $6 cover charge nets you just shy of an hour of snuggle time and a $2 credit toward drinks (or $1 toward an adult beverage), which include Doma coffee from the full-service espresso bar or craft beers from YaYa Brewing Co. and Lumberbeard Brewing. Once you've had time to fall in love with your kitty and sleep on your decision to adopt, the staff will walk you through the next steps to make it official. All cats have been sterilized, microchipped and vaccinated; adoption fees start at $25. 6704 N. Nevada St., kittycantina.com, 558-7093
BARK, A RESCUE PUB
Similar to Kitty Cantina, Bark is a partnership with the Spokane Humane Society that aims to introduce caring humans to their future four-legged housemates. There are up to 16 dogs and cats on-site at any time awaiting adoption. Although indoor dining is off-limits for the time being, you can still get takeout and delivery meals (think elevated pub fare like burgers, wraps and flatbreads) as well as make appointments to meet with the animals in the adjacent playroom. Up to five people from the same household can be in one visiting party. If you're already a pet owner, you can even arrange a meet-and-greet between your current pet(s) and your prospective adoptee to make sure they get along. 905 N. Washington St., barkrescuepub.com, 418-2551
CAT TALES WILDLIFE CENTER
House pets aren't the only ones who find themselves abandoned or homeless. Cat Tales rescues the feral animals who've been orphaned, mistreated, retired or mistaken for domesticated animals by misguided owners. And despite its name, the sanctuary is actually home to foxes, coyotes, bears and wolves in addition to lions, tigers, lynxes and bobcats, all of whom have their own stories and personalities. In an effort to limit the spread of COVID-19 among humans as well as animals, Cat Tales is asking guests to book private tours. You can do that in advance by visiting their website or just giving them a call. 17020 N. Newport Hwy., cattales.org, 238-4126
TERRA, A FARM SANCTUARY
Located in northwest Spokane County on the edge of Indian Prairie, Terra provides a place for retired, unwanted and abused animals to live out their lives with respect and free from harm. The vegan-minded sanctuary has experienced some tough times of late, with at least one animal suffering from illness and its co-founder and director bed-bound following a serious accident. To get your own animal fix while also providing much-needed support, you can volunteer directly on the farm or donate via the website. 6014 N. Rambo Rd., terrafarmsanctuary.org, 368-0670
RIVER'S WISH ANIMAL SANCTUARY
A kindred spirit to Terra, River's Wish is a nonprofit, all-volunteer refuge for maltreated animals. It's a safe haven for rabbits, horses, burros, cows, turkeys, pigs and more. Though the facility isn't open to visitors during COVID-19, they do offer a short virtual tour in the form of a slideshow and videos, and you can feed the animals from home by donating a bale of hay, grain and other feed. Animal sponsorships, wall art and branded accessories can all be purchased from the sanctuary's online shop and help sustain it during these difficult times. riverswishanimalsanctuary.org, 951-3650