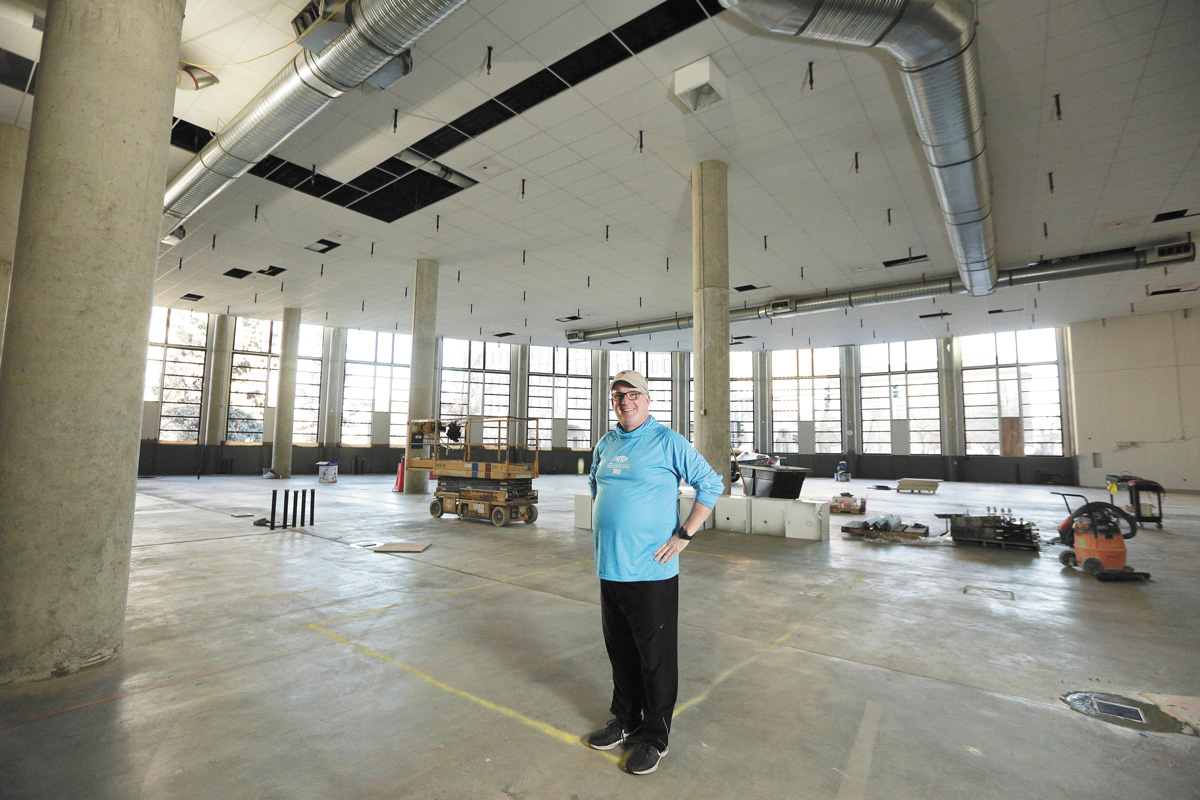 If Don Poffenroth had his druthers, he probably wouldn't be relocating Dry Fly Distilling at the height of a global pandemic. But you can't always choose exactly how events will unfold, and this particular $4.5 million move to a larger building has been in the works for at least four years.
"We have completely outgrown our current facility," Poffenroth says. "We daily move 20 palettes outside of our building to store them in the parking lot and then move them back in at night because we just don't have enough room. And we have maximized the throughput of our current equipment. All those things together led us to where we're at."
The motivation for the move didn't just come from the limitations of their present digs. Finding the right future location was crucial. The former Spokesman-Review press building on Monroe Street in downtown Spokane proved perfect.
"It is a unicorn. Not only is it in the core of downtown, it's a building that was built for manufacturing. The structure is amazing. It's beautiful," he says. Unlike a previous candidate site north of downtown, it also passed the distillery's rigorous engineering tests. 
"There is little or no negative part of this story."
Even with the challenges presented by COVID-19, the obstacles have thankfully been few. Because all of the stills and equipment in the new location are new as well, it's helped to overcome some of the logistical hurdles that Dry Fly might have faced if its existing machinery needed to be moved.
The new equipment is "significantly bigger" than the current equipment, too. The fermentation tanks, for example, are 12 times larger. And the new building itself is close to 16,000 square feet — far larger than the 3,800 square feet of the distillery's current space on Trent Avenue, where it's been headquartered since 2007.
"Right now, we work very hard and very long to achieve what we have to do. And this new facility, because everything's bigger, it's actually less work and it's more efficient. This is Dry Fly growing up. It's a change in our world," Poffenroth says.
He believes that the increased capacity will open up much more promising opportunities in the future, such as offering rental spaces for events, hiring more staff and expanding into additional markets.
During the early days of the pandemic, Dry Fly briefly switched to manufacturing hand sanitizer (aka "Spokanitizer") for the community as well as for Spokane County and Spokane Public Schools. They were joined in that switch by other local distilleries like Warrior Liquor, which has earned a reputation for creating connoisseur-quality whiskeys and vodkas.
Although Warrior's premium spirits have remained on supermarket shelves throughout Spokane, co-founder Rich Clemson says the pandemic revealed the interlinkages his business has with local bars and restaurants.
"They're getting slammed more than we are, and what happens to them directly affects us," he says. "On-premise consumption is down by about 50 percent, and off-premise, which for us is grocery stores, is what's keeping us afloat."
Despite the ups and downs of business and the evolving public health mandates, Warrior has continued to expand its line of spirits with distinctive flavors. Vodkas flavored with pineapple, huckleberry, coconut, grapefruit and vanilla have been popular favorites. And whiskey fans can treat themselves with peanut butter cup, espresso and cherry flavors.
"I'm excited because we're about to come out with some cream liqueurs that were really well received prior to the most recent shutdown," Clemson says. "So we've tried to still be innovative and come out with new products. Every week we're putting new product in barrels and letting it age for better days."
Dry Fly Distilling's new facility is at 1 N. Monroe St. Until the move is complete, it will continue to operate its production facility and tasting room at 1003 E. Trent Ave. Check out dryflydistilling.com for updates and online shopping. Visit Warrior Liquor and its onsite shop at 714 N. Lee St. You can also shop online at warriorliquor.com or call 413-1885 for orders and curbside pickup.