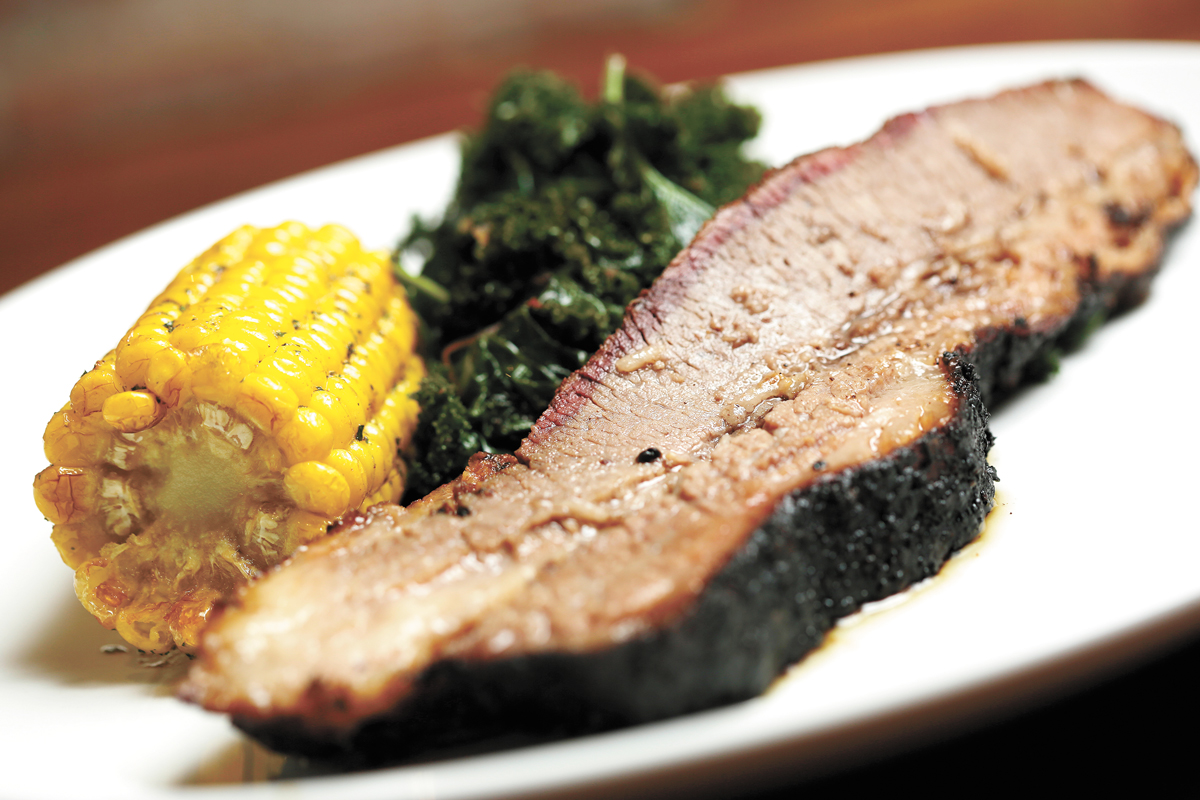 Spokane County's barbecue spots draw inspiration from around the country
Meat and fire. It's one of the oldest recipes in humanity's collective cookbook.
There are many ways to barbecue meats — in various regional styles with sauces and rubs from family recipes that have been passed down for ages — and you can find numerous styles in America alone. Memphis-style. Kansas City-style. Texas-style. North Carolina-style. The Northwest doesn't yet have a distinctive style of barbecue, but our region is home to a number of spots drawing inspiration from throughout the country.
Here are a handful of local barbecue joints firing up meats for hungry customers.
TT
s

OLD IRON BREWERY AND BBQ

Just a little more than a year since its opening and TTs Old Iron Brewery and BBQ has already distinguished itself in the region, not just as a great place to get some barbecued meats but as a solid place for a bite and a beer. The collab brings together brewery owner Travis Thosath and chef Chad White. TTs is located in south Spokane Valley, or "So-Val" as they've nicknamed it. Order the pulled pork, brisket or spicy sausage from their menu along with a pint of one of their many beers, like the Brewster's Banquet lager. 4110 S. Bowdish Rd, Spokane Valley, ttsoldironbrewery.com, 919-4798
LONGHORN BBQ
This Southern-style barbecue joint has been a staple of the Inland Northwest for more than 65 years with locations in both Spokane Valley and Airway Heights. Originally established in Houston in the '40s, Longhorn specializes in Southern "pit style" barbecue. Longhorn has also long maintained takeout and catering services, making them no stranger to the current restrictions and limited seating under the coronavirus shutdowns. 7611 W. Sunset Hwy., Airway Heights; 2315 N. Argonne Rd., Spokane Valley, thelonghornbbq.com, 924-9600
AUSTIN'S LIVE FIRE BARBECUE
This relatively new barbecue spot in downtown Spokane shut down briefly in early summer in response to COVID-19 but was back in business by August. The owner of the vegetarian-friendly downtown restaurant Mizuna, chef Mike Jones, opted to go in the complete opposite direction in 2018 when he opened Austin's Live Fire Barbecue, which focuses on Texas-style dry-rub and house-smoked meats. What separates Austin's from other barbecue joints is the restaurant's elevated side dishes, Jones says. Austin's offers a "Pacific Northwest bistro-style of offerings showcasing house-made dressings, sauces and aiolis with some lighter healthier options." Although hours and seating are limited right now, meat lovers can order from Austin's selection of smoked ribs, brisket and chicken, as well as meat sandwiches, burgers and more. 421 W. Main Ave. Suite 104, austinsbbqspokane.com, 290-5851
BETTY JEAN'S BBQ
Located on Fairchild Air Force Base but hailing from Rocky Mount, North Carolina, Omar Jones opened Betty Jean's BBQ in 2015 as a tribute to his late grandparents (Betty Jean being his grandmother) who both retired on the Air Force base. Betty Jean's specializes in North Carolina-style barbecue and is the only restaurant of its kind in the Inland Northwest, Jones says. North Carolina barbecue is different from most other types, he says, because it uses a thin sauce made of vinegar and spices. It's also thought to be the first style of barbecue brought to the United States via Spain. You can find North Carolinian hush puppies, hand-breaded okra and a thick dinner mac and cheese on the Betty Jean's menu. The COVID limitations have impacted the supply chains and the number of customers Betty Jean's BBQ can seat, but Jones says things have been creeping back to normal in recent weeks. Although it's only available to military personnel and base employees, Betty Jean's offers catering services throughout the region. 101 W. Spaatz Rd., Fairchild Air Force Base, bettyjeansbbq.com, 828-5931