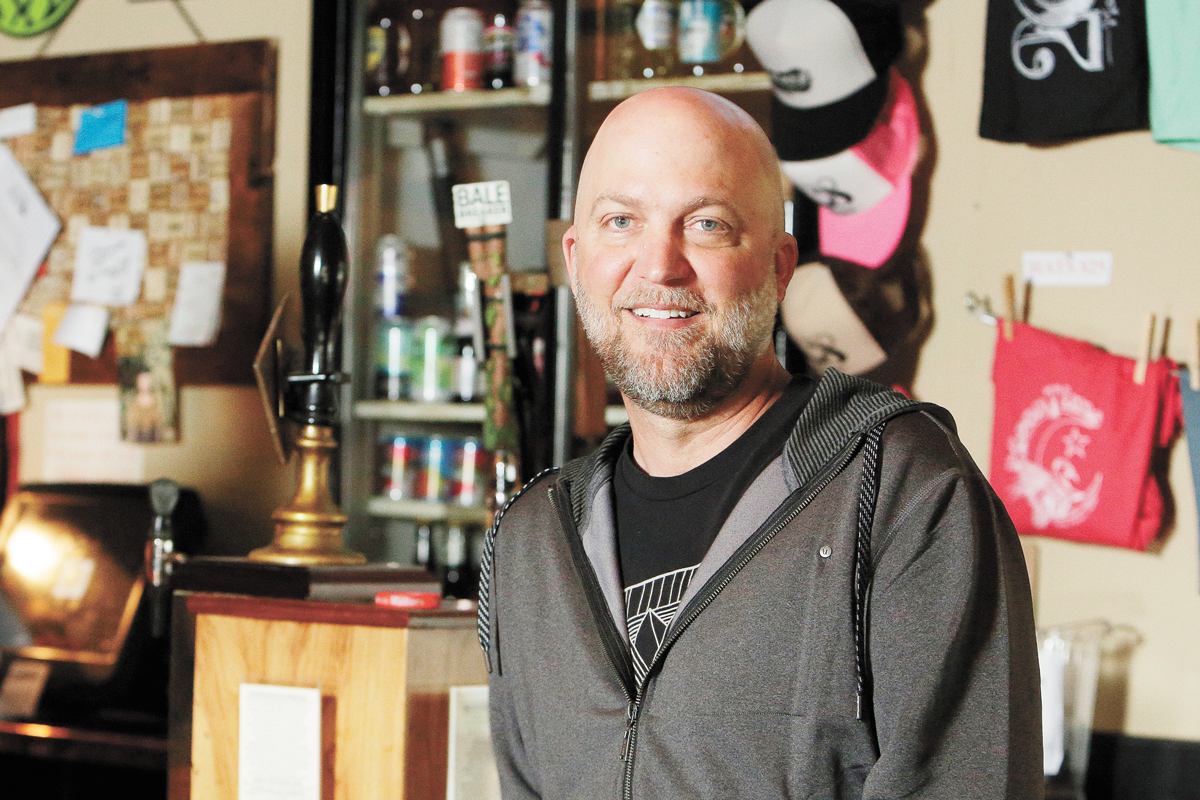 The Elk Public House, among others
Their website says a lot about their vibe: wedonthaveone.com. Their empire includes six restaurants: Moon Time and the Porch, both in Idaho, and Geno's, El Que, the Elk and Two Seven Public House, all in Spokane. Rather than a brand, what unites them is being a neighborhood gathering place. It's meant 25 years of success for John Grollmus, who shared his thoughts on the business.
Nowadays, people can buy and prepare just about any kind of food themselves, guided by Google or a good cookbook and a sense of adventure. What does dining out offer to today's consumer that is still so vital?
GROLLMUS: Experience and community. Many of our most popular recipes are posted on our website for the public to enjoy making them at home. Yet often when people do just that, I'll hear from them that whatever they made "just didn't taste the same." It's my belief that the simple reason for this is when a person makes one of our dishes at home, it lacks the overall experience they get when eating the same thing at the restaurant. Food simply tastes better when provided in a comfortable and creative atmosphere surrounded by the sounds and feeling of others enjoying themselves as well.
Our restaurants, specifically, always strive to be an integral part of the local community, which is why we often use the tag line, "Every neighborhood should be so lucky." Providing an experience and menu, which is specific to that location, along with offering events and promotions aimed at the local neighborhood and community, help to create the feeling that when you are dining with us, you are dining with your neighbors.
There are hundreds of restaurants in the Spokane area. What is unique and special about your place?
We offer simply the best quality of food, made with the freshest ingredients, with the most creativity at the most affordable price. Every single soup, stock, sauce, dressing and menu item we make starts from basic foods and never begins premade or prepackaged. Plus, every single type of customer feels an "at home" level of comfort, whether it's a construction worker coming in for a beer after work wearing their work boots or a businessperson coming in for a lunch meeting dressed to impress. Both will feel right at home.
How do you balance supporting a loyal clientele but also attracting new diners? 
Consistency is something we are widely respected for and our regular customers continue to patronize us because they know their favorite menu item will taste exactly the same on each visit and will often be served by their favorite server who has been bringing them that same dish for five, 10 or even 20 years.
However, we also strive to create new options by offering regularly changing soups and two additional menu items offered as specials, which change at each location every week. In addition to that, we update/modify about 30 percent of our menu twice a year to try and keep things fresh and keep longtime customers from becoming bored with our offerings.
You not only work and own a business here but also live here. How does the restaurant industry contribute to the community?
We create an enjoyable and good-paying livelihood for all of our well over 100 employees, who average 10-plus years with us. As owners we come from a lifetime of restaurant experience, which led us, from the very beginning, to operate from a perspective of kindness. However, we have always felt that simply treating staff with respect and gratitude is not enough. It is also essential to pay them better than our contemporaries and offer health insurance as well as retirement benefits. The long-term result of this is that we have employees who are able to buy houses, raise children and become vital members of their local communities.