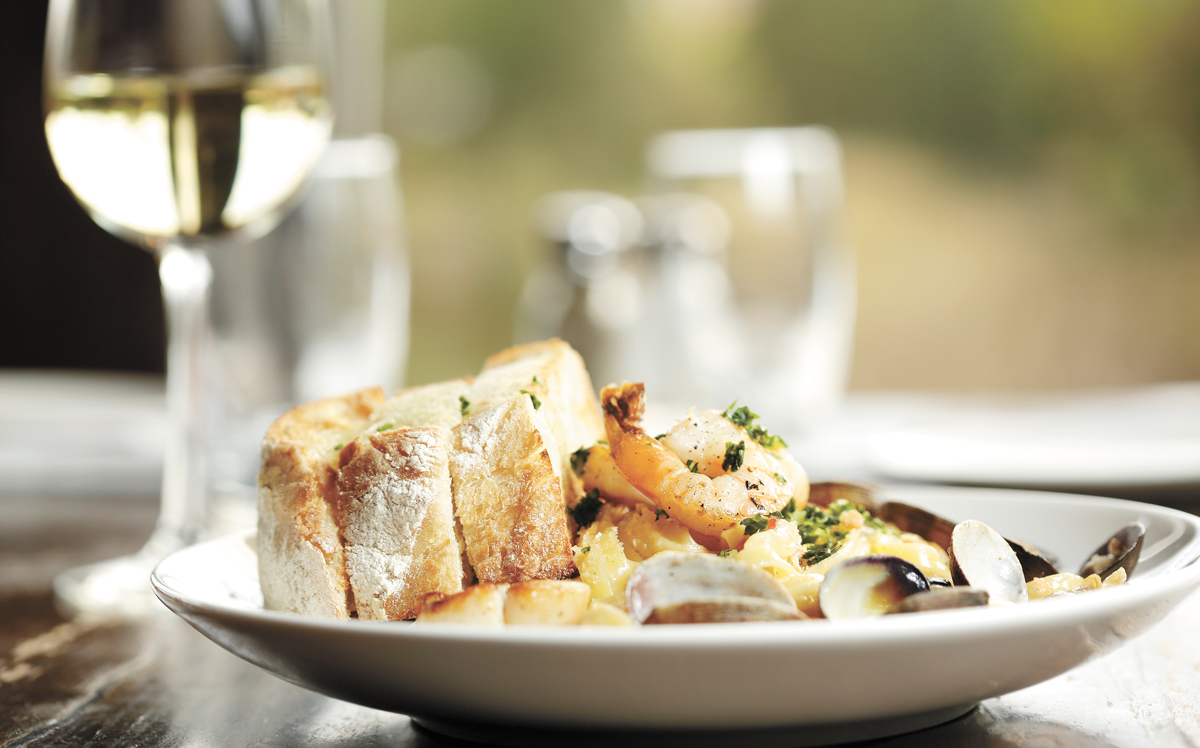 Fine dining restaurants are all about ambiance, but that's a bit harder to create with COVID
Without a doubt, the tradition of going to your favorite fine dining restaurant for special occasions has been one of the most missed pieces of day-to-day life among many in the community.
Early on in the pandemic, restaurants of all kinds were completely closed to in-house dining, and for many high-end places, that meant either total closure or a temporary switch to a completely different menu more suitable for takeout orders.
But this summer, great weather and patio space has enabled popular high-end restaurants to open their doors to guests and make more intimate celebrations possible, even with limited capacity due to state guidelines.
It's something CLINKERDAGGER General Manager Debi Moon has seen for sure — families have been wanting to come in to celebrate birthdays, anniversaries and graduations as tradition allows. However, she's had to remind people that seating is only available for five guests per table, and when that's indoors, they all must live in the same household.
Still, having some workable indoor space like the restaurant's private banquet room, which can be configured to have about three distanced tables if there are three separate households, has enabled some families to at least dine in the same general area together to celebrate big occasions, Moon says.
For the restaurant that's overlooked the Spokane River for 46 years running, takeout has never been a big seller, nor was it during the early phases of quarantine shutdowns, Moon says. However, with some loyal customers being older and perhaps still unable to come dine out, takeout has still increased about 100 percent this year over last year, she says.
"Our to-go orders have built immensely, but dining is definitely the biggest thing for Clink's," Moon says.
To accommodate everyone's preferences, Clink's is running one menu, with smaller fare and larger entrees available all day. Lunch is served 11:30 am to 3 pm Wednesday through Saturday, happy hour is from 3 pm to 6 pm daily, and dinner is from 3-8:30 pm Sunday through Thursday and until 9 pm on Friday and Saturday. Reservations are recommended now more than ever.
Overall, summer weather has been a great help, enabling the restaurant's ever-popular patio to fill up quickly each day, at least until the season changes, Moon says.
"I can say I feel we've been one of the more fortunate restaurants because of everything in our favor," Moon says, "our longevity, the patio and the celebration guests have with us."
Patio space has indeed been key for many restaurants trying to adapt to the reductions in capacity, including CLOVER.
When the popular seasonal new American restaurant reopened for seating in and around its historic converted house north of Gonzaga, dining options were quickly expanded from evening to nearly all day with plenty of seating outside. What was solely dinner service upon reopening in June soon expanded to brunch/lunch offerings and an afternoon happy hour. Now, the restaurant remains open for dining of some kind from 10 am to 8 pm Monday through Friday and from 9 am to 8 pm Saturday and Sunday.
Guests may sit inside or out on the patio near the garden where the restaurant grows peppers, squash, herbs, tomatoes, corn and other ingredients for its seasonally changing menu items.
The patio and brunch menus have been very popular, owner Jim Finigan confirms, noting the great overall menu revamp by Bryan Doyle, who started as executive chef with Clover right as the restaurant reopened this summer.
"The number of people that have been coming in from 2 to 5 to have an appetizer and a glass of wine has been like five times better than we anticipated," Finigan says. "We think that's because people have been wanting to go out and just haven't been able to."
While the restaurant was temporarily doing family-style to-go items during the closure this spring, the normal menu is now available for delivery from TREEHOUSE DELIVERIES. Expanding their early meal service has also improved turnout.
"Now we do brunch seven days a week, which has been really helpful and great, we've had great feedback," Doyle says. "Guest counts are just climbing, so everything we've been doing has been good."
Finigan notes that while some things like overall reduced capacity may be a reality, the overall fine dining experience remains a priority for the restaurant, and guests are certain to feel welcomed and cared for.
"We never changed our staffing model: We make sure a server doesn't have 10 tables like if you go to a [diner]," Finigan says. "We made sure our very old building of 100 years is set up in a very quaint, boutique way, and even though it's 100 years old, we've got air conditioning everywhere. People are coming back to the same Clover they knew."