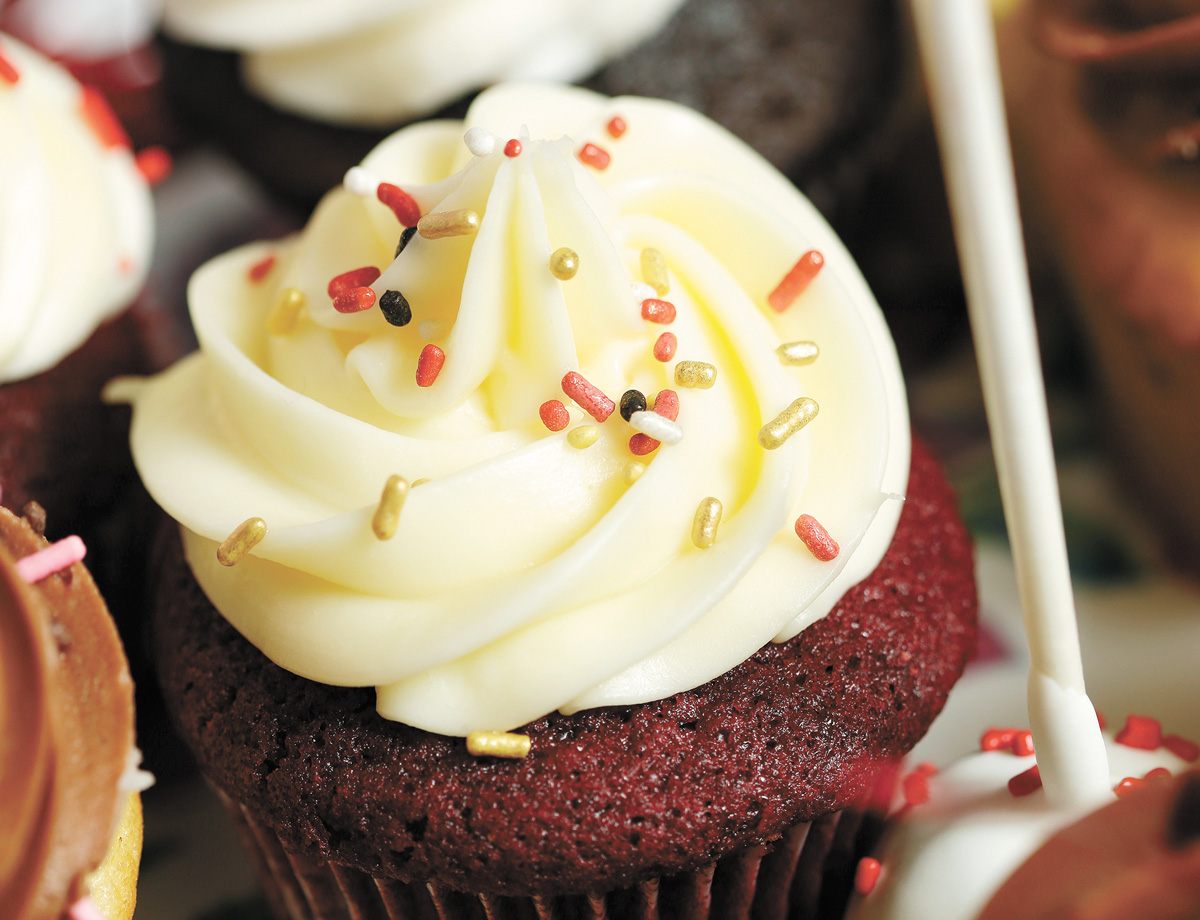 The region's cupcake spots know how to deliver delicious, sweet treats
Someone wise once said, "You can't buy happiness, but you can buy cupcakes, and that's basically the same thing."
In the era of COVID-19, self-care is important. And that means treating yourself as often as you can. What better way to do that and support your local cupcakery? Here, we've compiled a list of some options in Spokane County where you can get your dose of happiness in cupcake form.
LILAC CITY BAKERY /
CELEBRATIONS BAKERY
If you want a cupcake to make you feel extra special, you gotta go custom, and at Lilac City Bakery (Spokane) and Celebrations Bakery (Spokane Valley), everything is custom- and scratch-made. Owner Amber Owens likes to have fun with her sweets, so expect humorously and seasonally decorated cupcakes. (Get a preview on Instagram at @lilaccitybakery and @celebrationsbakeryofficial.) The two bakeries were hit hard after wedding season was mostly canceled, resulting in a massive loss in revenue from custom goods, Owens says. But retail sales and support from the community have helped them stay afloat. In addition to cupcakes, Lilac City Bakery and Celebrations also bake brownies, cake pops, donuts and custom cakes, most of which can be found at local coffee shops like Wakeup Call, Shotzy's Coffee and Daily Habit. Lilac City Bakery: 1215 N. Ruby St., Spokane, lilaccitybakery.com, 315-4958 ; Celebrations Bakery: 315 S. Sullivan Rd., Spokane Valley, celebrationssweetboutique.com, 315-5973
SWEET FROSTINGS
Owned and operated by the mother-daughter duo Jessica and Sally Winfrey, Sweet Frostings offers a wide range of baked goods that are as intricately decorated as they are numerous. Cookies, macaroons, coffee and cakes round out the rest of the menu at Sweet Frostings' four locations (downtown Spokane, Whitworth, NorthTown Mall and in the Spokane Valley Mall). 15 S. Washington St., 242-3845; 10406 N. Division St., 368-9811; 14700 E. Indiana Ave., Spokane Valley, 381-5927 · sweetfrostingsbakeshop.com
MARSELL'S
COVID hasn't been easy for small businesses, but for those who were downsizing anyway, it wasn't such a jarring transition. At least that's the case for Marcel Kopplin, who moved her commercial bakery into her basement last December, before the pandemic hit. She'd operated a bakery and retail space in Spokane since '03 with 22 years of experience as an instructor at the Inland Northwest Culinary Academy. If you're looking for a cupcake with a healthy dose of filling (raspberry, mocha fudge, vanilla and others), "robed in ganache" and intricately decorated, then you need to call Marsell's. The lavender cake and cupcake is one of the most popular. There's no minimum size to the orders, Kopplin says, so long as she can fit it into her schedule. Bonus: The ganache seal around the cupcake will make it last longer than most. marsellscakes.com, 448-2512
SWEET DREAMS BAKERY
Susie Bowen at Sweet Dreams Bakery calls herself "an ingredient snob." That's because everything she puts in her cupcakes is "real." "Real cream cheese. Real butter. Real vanillas. Real flavor." Otherwise, her grandmother would come back to haunt her, she says. In addition to her popular German chocolate and berry-flavored cakes and cupcakes, Bowen is also preparing for the fall season with "heavier" flavors, like pumpkin and banana-carrot. Like many other small businesses, Sweet Dreams has also taken a hit during COVID-19 by removing in-store seating and readjusting its hours. Thankfully, a loyal customer base has managed to keep Bowen afloat, she says. 3131 N. Division St., Facebook.com: Sweet Dreams Bakery, 747-6900
HAPPY CAKE CO.
One notable change for Happy Cake Co. since the massive event cancellations during COVID-19 is the uptick in cupcake sales, owners Mike and Cassandra Halloran say. Specifically, they say some of their customers have been improvising with socially distanced drive-thru parties where guests are treated to Happy Cake's cupcakes. "Our cupcakes stand out among other vendors because each cupcake is filled with buttercream icing and then dipped in a glaze which gives each cupcake a smooth and shiny presentation." Also, get ready for their pumpkin spice flavors coming this fall. 1312 N. Mullan Rd., Spokane Valley, happycakeco.com, 924-8455
JUST AMERICAN DESSERTS
In business since 1986, Just American Desserts owner Eva Roberts says she's seen it all: "Desert Storm, ice storm, wind storms, technology crashes, stock crashes, 9/11 and recessions! Now a pandemic!" she says. Although she's seen large cancellations during the pandemic, business has stayed somewhat stable with a dramatic increase in individual sales, she says. Just American Desserts specializes in cakes, cupcakes, cheesecakes, cookies and chocolate work. Cupcakes are offered in regular and "mini" sizes with flavors such as chocolate fudge cake, sour cream with fresh lemon filling and almond poppyseed. 213 S. University Rd., Spokane Valley, Facebook.com: Just American Desserts, 927-2253