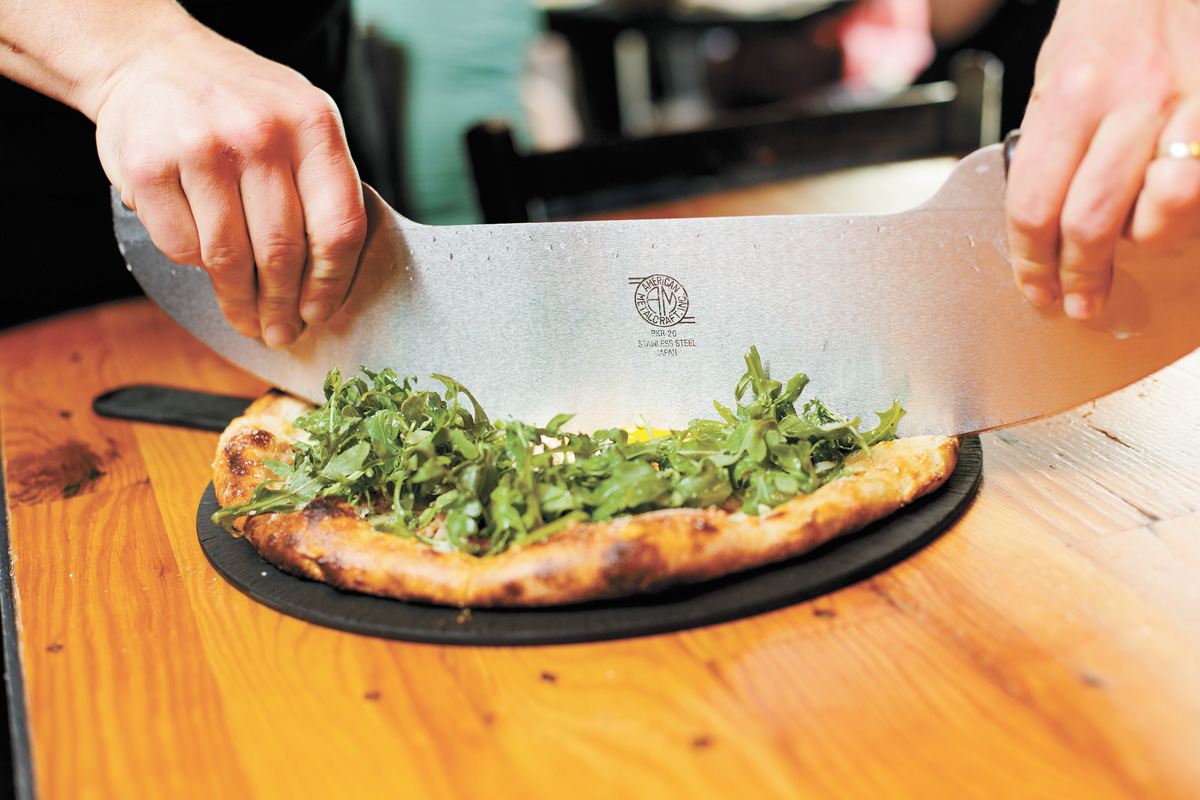 Seven great options in Spokane
Don't sleep on pizza. Sure, it's now easier than ever to order in a fancy dinner, or a burger and fries, or some pad thai. But there's still something about opening that box and ripping off a slice of your favorite pizza. Sometimes, you gotta stick to the classics.
In Spokane, there's enough variety that you never have to go a day feeling like you've had the same pizza twice. Change it up. Heck, go one week eating a different pizza every night, if you have the stomach for it. Here's a list to get you started.
Flying Goat
At the Flying Goat, no pizza tastes like another. Each has a unique flavor with a delicate balance of quality ingredients that melt in your mouth. If you're not sure what to order, try the Fairview: heavy cream, house cheese blend, house back bacon, pears, gorgonzola cheese crumbles, and white balsamic reduction. Because of the thin crust, it's not too filling, so it's easy to scarf down the entire thing before you realize just how great it is. 3318 W. Northwest Blvd., theflyinggoat.com, 327-8277
Park Inn
It's all about the cheese at the Park Inn. And why shouldn't it be? Cheese is the most important ingredient, after all. Here, the cheese molds together on top of the tasty sauce, a dense layer of chewy goodness that will leave you satisfied. It's a great place not only for pizza, but to knock out a pitcher or two of beer with some friends. 103 W. Ninth Ave., parkinnspokane.com, 624-8111
Pizza Pipeline
Pizza Pipeline doesn't mess around. With six locations across the Inland Northwest, including in Spokane, local chain Pizza Pipeline is often the go-to for a traditional pizza delivery. Whether it's a simple cheese pizza or something more adventurous, each slice makes you feel like this is the way pizza should taste. 1403 N. Division St., 10411 N. Newport Hwy., 2718 E. 57th Ave., 1724 W. Wellesley Ave., 415 N. Sullivan Rd., Spokane Valley, 8901 E. Trent Ave., Spokane Valley; pizzapipeline.com
Dinardi's Pizza & Pasta
Dinardi's, near Gonzaga, knows its way around Italian food — the family that owns it hails from Italy. So it's no surprise they've mastered pizza, too. The New York-style pizza is flavorful, hearty and fresh all at once. The sauce, the crust, the seasoning, all of it combines elegantly for a slice of pizza that you know was carefully crafted. If you haven't tried it yet, you're missing out. 829 E. Boone Ave., dinardispizzapasta.com, 960-7949
Veraci Pizza
Located in Kendall Yards, Veraci may have some of the best wood-fired pizza in town. Whether you want a chicken pesto pizza or a pepperoni, Veraci lets the ingredients shine. All it takes is one slice and you'll be hooked. It gets bonus points for one of the best patios in town, with a view of the river and the city. 1333 W. Summit Pkwy., veracispokane.com, 389-0029
DAVID'S PIZZA
The Elvis (spicy Thai peanut sauce, seasoned chicken, peppers) and the Da Vinci (feta, basil pesto, tomatoes, garlic) are just a small slice of the many handcrafted pizzas that David's dishes up for hungry customers. As a founding member of the Spokane Hospitality Coalition, David's has pledged to uphold rigorous standards for workplace sanitization and public safety. 803 W Mallon Ave. 509-483-7460. davidspizza.com
Bennidito's
Bennidito's is a neighborhood institution on the lower South Hill, and it now has a brewpub on Sprague Avenue. In this welcoming, friendly environment, the hefty pizzas fit in perfectly. When you're finished, you feel like you've just had a hearty meal with people you want to be around, and what more could you ask for? 1426 S. Lincoln St., 1909 E. Sprague Ave., benniditos.com